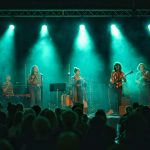 Har DU en god konsert du vil spille for barn og ungdom?
Publisert 14. januar
Da bør du melde inn din konsertproduksjon til Marked for Musikk 2022! Vi er Norges største visningsarena for konserter rettet mot barn og ungdom. Kanskje blir du av de som står på scenen hos oss i oktober, med konsertarrangører fra hele landet som publikum! Marked for Musikk har nå åpnet for innmelding av produksjoner for […]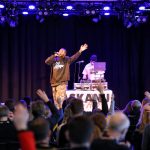 Pictures from Marked for Musikk/YAMsession 2021
Publisert 22. oktober
MANY THANKS from all of us in the Marked for Musikk and YAM-crew to our more than 200 participants and 80 musicians and speakers from 13 countries, for sharing these four magical days with us here in Larvik! We're proud to be the first showcase arena that's hosted YAMsession twice, it's been an a real […]
Følg oss på Facebook for siste nytt. Her legger vi blant annet ut aktuell informasjon om Marked for Musikk, og vi deler bilder og stemningsrapporter under selve arrangementet!