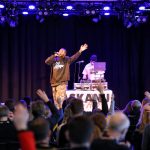 Pictures from Marked for Musikk/YAMsession 2021
Publisert 22. oktober
MANY THANKS from all of us in the Marked for Musikk and YAM-crew to our more than 200 participants and 80 musicians and speakers from 13 countries, for sharing these four magical days with us here in Larvik! We're proud to be the first showcase arena that's hosted YAMsession twice, it's been an a real […]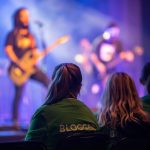 Check out our bloggers' concert-reviews!
Publisert 20. oktober
What does our young audience think about the concerts we showcase at Marked for Musikk / YAMsession 2021!? At ungestemmer.no you can find out! We have a collaboration with Scenekunstbruket – The Norwegian Network for Performing Arts – and their project "Young Voices" ("Unge stemmer"). Pupils from a local secondary school here in Larvik write […]
Følg oss på Facebook for siste nytt. Her legger vi blant annet ut aktuell informasjon om Marked for Musikk, og vi deler bilder og stemningsrapporter under selve arrangementet!